Junya Watanabe – Black Glamour – Douglas Chen
( click above to play )
The big news of the week comes on the last day of work for Nicolas Ghesquiere at Balenciaga after a very strong run of fifteen years.
photo: Thomas Iannaccone
Hot American designer, Alexander Wang, has been named by PPR to replace Ghesquiere as creative director at the house of Belenciaga. ( PPR is a French luxury goods conglomerate based in Paris. Other than Balenciaga, it is the parent company of fashion brands Gucci, Yves Saint Laurent, Stella McCartney, Alexander McQueen, Bottega Veneta, Sergio Rossi, Brioni, Boucheron, as well as FNAC, Puma, Tretorn and other non fashion related businesses. )
photo: Giovanni Giannoni
There wasn't really enough time for speculation and rumors for this appointment. Unlike at Dior and Saint Laurent, where for months, all the top European designers were rumored to be next in line to take the reigns. Not so here. The announcement of Alexander Wang came fast and unexpected.
This 29 year old Chinese-American designer was raised in San Francisco and moved to New York at 18 to attend Parsons School of Design. He  has been a rising star…. correction… shooting star since he began his company in 2005.  Alexander Wang, in 7 short years, has built an international business,  worth millions, with an astonishingly strong foundation. He is considered a young, edgy designer popular with the hip  fashion crowd, but he has an incredible business acumen as well. As his collection was growing and earning gushing praise from editors and retailers…. he established T by Alexander Wang at the same time and that has become a retail success and phenomenon.
The first time I met Alexander Wang, was in 2005. He brought his then collection of about 16 sweaters to our offices on Park Avenue in New York. He was all of 22 maybe at the time. Once he laid out his collection,  I knew we had something good ( certainly not to this extent good… but good). We bought several styles and months later when the merchandise came in, impeccably and on time I might add,  sold out immediately. Women loved his sensibility. Styled for a woman but even back then… he had a way of always maintaining a masculine bend.
Mr. Wang will definitely be challenged in his new job. After Nicolas Ghesquiere,  the bar is pretty high. There is talk that with this appointment, Balenciaga would like to keep the label a strong fashion brand but perhaps bring it down just a tad so that the ready-to-wear can be more attainable. Only a rumor and remains to be seen, of course. He will also be challenged with managing his eponymous collection that's still growing strong at the same time. Shuttling back and forth between NYC and Paris is no easy task. This is one success story you hope just continues to get better and better for Mr. Wang.
Fashion  continues to extend its long, well groomed fingers into unchartered waters. Kudos to Disney and Barneys New York for this super video of Minnie's joyful romp through Paris. During her fashion frolic, she rubs shoulders with a number of fashionistas and iconic Disney characters. See how many you recognize in animation before the closing credits.
click here for Minnie's adventure.
Since I am on the subject of Dior… I was fortunate enough to pass in front of the holiday windows at Printemps on boulevard Haussman on my way from Gare Saint Lazare to Gare de Lyon this past Tuesday morning. Atelier Dior has decked these windows of the famed Parisian grand magasin with a beautiful ballroom scene with poupettes dressed in bespoke Dior, or mini couture, made especially in their Haute Couture workshop.
The 70 plus poupettes are dressed in mini replicas of Raf Simons' debut couture collection as well as Christian Dior's own designs from his 1947 collection.
I do believe Marion Cotillard was there to unveil the windows with team Dior.
The windows are beautiful, romantic and magical no matter your disposition regarding the holidays. If you're in the neighborhood before the holidays…. a must stop and see.
all photos: DChen
I am mesmerized with Marion Cotillard in this DIOR short short film. The clothes are breathtaking.
Christian Dior's New Look revisited.
then ….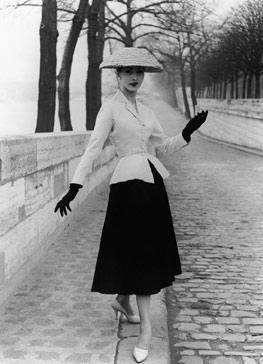 Just in…. it's been announced that PPR and Nicolas Ghesquiere have mutually decided to end their marriage.  The designer will terminate his relationship with the house of Balenciaga as of 30 November. No one saw this one coming. Ghesquiere has been design director at Balenciaga since 1997. An eternity in fashion relationship years. His collections have always been strong and prophetic. Ghesquiere always loved by the press and critically acclaimed. At retail, he and his team did a stupendous job balancing new ideas and salability.  With the jobs newly filled at YSL and Dior… what's up Nicolas' sleeve???
photos : dchen
a new short film from Dior and Marion Cotillard – here
photo : dchen
Fashion weeks have come and gone…. where are the photos? where are the words? where have I been?  Not to worry. I've been running through the shows and endless showroom writing appointments, in the thick of it all. I've seen plenty!  There has been just one  small wrinkle…..I've been completely void of words and inspiration to post. Just a mild case of writer's block. It's not the fault of the collections. There was plenty to see and love. A smart friend of mine told me just to post photos…. don't let words get in the way. Just show us what you like….. it's as good a start as any so hopefully this will get me on my way. I have a lot of catching up to do. Meanwhile…. Karl Lagerfeld isn't the only one who's tapped into the Coca Cola products design fun. Jean Paul Gaultier showed up on my table via a Coca Cola Light can during one of my writing appointments. I should do a count someday of how many espressos, cappuccinos and Coca Lights it takes to get through fashion week(s)?!?!?!?
photo : DChen
Christian Dior has finally filled the vacant post left  by John Galliano after his infamous firing well over a year ago. Belgian designer Raf Simons has been named artistic director at DIOR.  Pret-a-porter and accessories chime in at just about $1.4 billion annually. A healthy business and considerable sizing up from his last gig at Jil Sander. The post where he was replaced by the eponymous Jil Sander, herself. ( much to the dismay of a surprisingly large group of editors and retailers )
Raf Simons started his career as a avant garde men's wear designer in 1995. I remember trying on some of his jackets with severely exaggerated shoulders up in the Penthouse of Barneys downtown back in the day. Raf did not design a women's collection until 2005 when he was appointed design director at Jil Sander. Since then, he has been designing his own label alongside of both men's and women's at Jil Sander.
Currently, Raf Simons is known more for his purist and minimalist views of fashion. Because he is an intellectual designer, he is very capable of thinking of fashion past and doing fashion future at the same time. He, surprisingly, has incorporated 1950′s couture shapes and ideas with a modern take when he was at the helm at Jil Sander. Good timing on his part. Christian Dior opened the doors of his fashion house in 1947. What makes Raf Simons a great designer is that he respects the house  and the DNA that a designer has created and is not fearful to render homage to said designer. Yet, he never does it in a way that looks like dredged up vintage. This respect and his modernist views always propels his work defiantly forward. He is shy by nature and not a showman as his predecessor. It's his work and thoughts that attract the spotlight and attention.
Raf Simons will add couturier to his resumé at Dior. He shows his first collection in July for Fall Couture. As we know now, Dior Homme will still be designed by Kris Van Assche. ( will that change soon as well? ) There will be a definite duel this coming October rtw shows. With Hedi Slimane ( previously of Dior Homme fame ), as YSL's newly appointed creative director, the stakes are large for top dog. LVMH is banking on Raf' Simons' talents and capacity to steer the Dior woman in a more modern direction. Can't wait to see the changes to come….
photo: thank you unknown source.